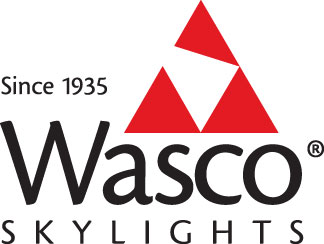 Is it time to replace your skylights? Wasco is the perfect fit!
Wasco skylights drop right in your existing opening saving you time and money!
The sizes of Wasco Skylights are near identical to most of the skylights that need to be replaced, because Wasco follows the standard US sizing system that is based on both 24" O.C. Roof rafters and/or 16" O.C. Roof rafters, unlike other leading brands which are manufactured to foreign sizing specifications. So Wasco skylights will fit right in the current hole cut in your roof, whether it is a "Self flashed" method of installation, or "curb mount" method of installation. This means:
No reframing of the opening
No sheet rocking
No painting or trim work
Features & Benefits
Custom sizes to match your existing opening (limits the amount of work necessary to install and finish the skylight)
Easy installation with factory installed leak proof flashing (Makes the installation easy and worry free)
New Energy efficient glass (save energy from old skylights with 20 year old glass technology)
Residential Architectural Skylights
The Architectural Design series was created for home builders and developers engaged in home design, home improvement and custom home building. These architectural skylights are designed for value, versatility and stunning beauty to suit the needs of home builders and residential architects. Innovative designs include pyramid, extended pyramid and octagonal skylights in a variety of glazing options.